The difference between HR & payroll software
Human resource and payroll are two very important and distinct functions of a business organization. However, in many organizations these two functions overlap or the two functions are performed using the same system or a single person. These two functions are often at use together for an outcome, hence they go hand in hand in many HR related tasks.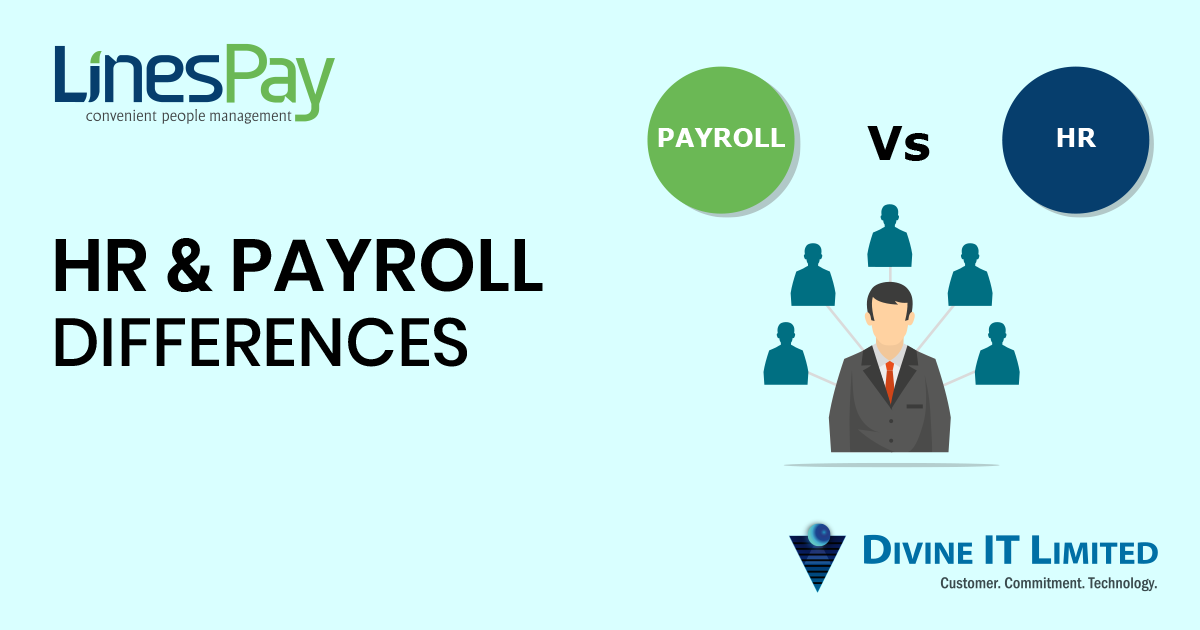 Small to medium organizations often opt for Payroll management system; just to manage the tasks related to payroll. But in the long run while streamlining the overall people management system of the organization a HR software is paramount to bring clarity and meticulousness into the tasks related to it.
HR system Functions
The very basic responsibility of this department is to manage the people of an entity or within an organization. The high-level responsibilities of such a department would be to yield profit not from clients or products but by employees. This means, bringing out the best in employees, tracking employee performance and deliver tasks according to their performance level. Often HR departments works out different kinds of reward system or commission-based tasks to encourage employees to perform at their best. HR department and the personnel also takes responsibility to arrange training facilities for new employees and in many cases for existing employees who needs extra skills to sharpen their knowledge base. The employees are directed towards a common goal by the HR administrators.
All these activities can be monitored through a HR software. Without any miss management and loss of data, a total record of each employee activity can be tracked by a HR system. By a simple click, the timeline of a employee can be achieved while evaluating the performance and deciding the appropriate course of action. This whole system saves time and eliminates the need of hiring extra people managing each task manually for an error-free operation.
Payroll system Functions
The word 'payroll' is pretty self- explanatory. It refers to the process with which employees of an organization receives their monthly, weekly or hourly based payment of their work. The payroll department is responsible for processing and going through all the necessary compliance to get the employees paid on time. The system is in most cases complied with the tax system of the location the organization operates in. a payroll system works in conjecture with the accounting system which produces accurate results after properly processing the deductions, tax, reimbursements, overtime due, holiday pay and all the other payroll criteria followed by the organization.
Almost all organizations maintain different payroll policies for different departments based on specific task structure. Without a software, singling out each department and its employees and their specific task on which the payments are based- becomes quite impossible. In case of a payroll software, the specifics of an employee or an entire department has to be selected only once. The software produces the results based on the selected options without any error until the specifications are changed by administrator at any point.
Combined Workflow of HR & Payroll software
It is quite clear how these two functionalities are significantly necessary to run a successful people management department. Many if not all HR functions are related to payroll section of the department. If HR develops a new scheme relating to employee performance, the payroll needs to be arranged following the scheme as the payment of specific employees will be changed due to the performance. Other factors such as, increment of salary, bonus, holidays, sick leaves, deductions are all related to the HR functionalities and changes in the structure of the planning of human resource management of the organization. So the two departments must work closely to ensure maximum output of the workforce and ensure the perfect balance of each component. The HR and payroll departments are also the holder of the most confidential document or information of an organization. To safeguard employee's sensitive information, the departments must follow the protocol laid by the policy which can only be done properly through a software. Furthermore, any kind of biased opinion or false accusations can be avoided if all the records of each employee is recorded in a safe and un-breachable system.
The difference
Often for a small business holder, a payroll management system is all they need to cover their employee management. Such a software can mitigate errors in the payroll and reduce the amount of time and effort spent otherwise. It is a very affordable solution and even manageable by a non-finance personnel. It can be purchased with affordable prices and can be used via a cloud service and in many cases pay-as-you-go design are preferred by some business types.
On the other hand, a HR software focuses on the bigger picture of a business or an organization. It mainly focuses on maintaining a steady workforce and workflow management system. On the long run, when an organization looks for clean and error free process to run their employees they look for an HR system. It is used to make recruitment process a bit tidy and optimize the hiring process.
When the workforce of an organization increases beyond the capability of handling it manually, the help of a HR software becomes paramount. It becomes necessary for the management to track employees to enhance their performances and to track hours of each employee.
Furthermore, a HR management software fosters communication between departments. Employees can manage their own portal and keep track of the updates provided by the management. The collaboration between management and employees become more effective in terms of achieving an organizational milestone. Hence, a HR system becomes a significant necessity when the goals of an organization includes communication improvements.
Both the functionalities are important for an organization which aims sustainability. Every business aims to grow with which the target of the organization heightens. To stabilize such an idea, establishing HR & Payroll software is a must which will ensure 360-degree view, statistical reports or performance and effective decision making.
Contact Us

+88017 3007 1001

sales@linespay.com