Time & Attendance Management with Payroll System
Time and attendance system is a widely used people management technique installed in many organizations. It has been a common integration with the HR system for quite sometime now. A time and attendance system for tracking employee attendance and performance speeds up the workflow of the organization. This technology does not allow employees to abuse time and perform within their capacity.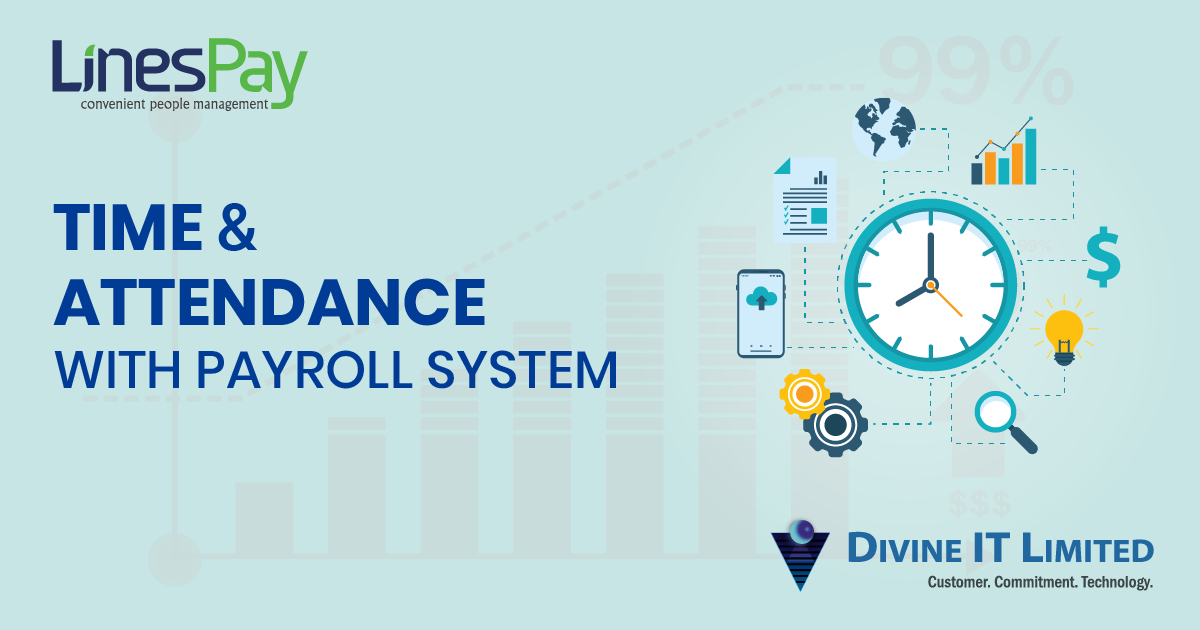 Time and attendance system is paired with attendance devices which might be biometric fingerprint authentication system, face recognition system, iris recognition, voice recognition, signature recognition and so on. Since fingerprint, iris and voice is virtually impossible to fake, each employees time and attendance are accurately recorded into the system for the HR department to monitor. These records are further tracked for management reporting and payroll calculation.
Time and attendance functionality usage
In organizations, time and attendance systems allows employees to clock in and out electronically through mobile devices, internet connected PC. These data is transferred immediately into the software importing it in the payroll module for payroll related results. These systems do more than just tracking employee in and out times but they also monitor outposted employees via geolocation functionality. It serves the HR and payroll department with real-time data of who is on what track, which employee is on a break or showed up late and who is on an overtime shift. This real-time record allows the HR administrators to create employee schedules according to the employee work pattern. Furthermore, the HR department receives detailed labor data of each and every employee which translates into the employee overtime pays or work incentives and many other benefits gained from their performance.
On the flip side, time and attendance system allows employee self-service, which provides the facility to handle time-tracking tasks of their own. The employees can view how many hours they have worked on a task which provides them the opportunity to evaluate their performance. Plus, they can allocate their work timing according to their past workflow. Each employee can view their own work schedule set by each department and get assigned work done personally. Such a centralized system increases department to department collaboration strengthening communication producing smooth workflow.
These time and attendance systems comes with a wide range of reports which can be generated with a simple click. Reports such as, daily attendance, absentee, time in/out, employee clocking audit and monthly overtime report, transactions, monthly individual worker report, monthly job report and lastly overall yearly task reports.
Many of these time and attendance systems of HR software are offered as cloud- based solutions which are accessed online and housed by the software vendors.
Pros & cons of time & attendance device system
The most common benefit of this kind of digital systems is the complete removal of manual inputs. All of the data is collected electronically with the error-free calculations already done for the administrator. These systems are not used for only one type of functions; they manage several tasks at once in just one program.
This kind of systems often perceived as a mean of micromanagement which might cause distress among the employees. On the other hand, these systems are of higher price range and the management system of the system is rule based. Often managing such a critical system becomes tough for HR employees as the system needs constant upgrading. Therefore, before implementing such a multi- operational system, the HR professionals needs accurate training and should be provided manual guides to make the usage of such a system easier.
Cost factor of a time and attendance system
The cost structure of a time and attendance system depends on the type of system the organization opts for. They can either choose a cloud-based or an on-premise solution. Cloud-based systems have lesser recurring monthly costs, while the on-premise systems have larger one-time fees. The on-premise systems are regarded as the buyer's responsibility. The cost is paid up-front at once, there are no recurring monthly fees. However, there is support services, for which a certain payment has to be paid on a monthly basis arrangement. The service of upgrading the software updates are also paid after a certain version, which is negotiated between the two parties.
Important factors while purchasing time and attendance system
Integration options- While looking for a time and attendance system, it is advisable to look for a system which allows integration with multiple other modules or functions. Integrating with the HR and payroll systems or any other operational system would make a powerful, centralized system for obtaining maximum results in the related tasks.
Audit trail records- The system must record a trail of changes made to any data by a manager or a supervisor. This function is often necessary if an organization wants to straighten their structures and goes through audit process.
Easy to use- It is always a good idea to look for a system which has a user-friendly interface and easier to understand functionalities. It takes less time for the professionals handling the system to get comfortable with the functionalities thus wasting less time on training.
Other device compatibility- As the system is used by employees and HR professionals, and these professionals often work outside the office, a system with multiple device compatibility is an ideal plan. Employees can check their work schedule enjoying Employee Self Service and also observe other detailed information about their future tasks, performance meter, timeline of each task from their personal portal. On the other hand, the HR managers can get an overview of the employee schedules, track employees, evaluate performance while being on the road.
Accurate time maintenance- The HR and payroll department can pay the employees according to their actual duration of work. So, the employees are never overpaid or underpaid. This keeps overspending from the accounts department at bay and eliminates all the chances of having a financial loss in the organization.
A time and attendance management system eliminate the human error and shows the most accurate real-time data of employee performance. This is a system which makes the workflow of an organization boost its performance at a rapid rate and allow employees the benefit that they deserve.
Contact Us

+88017 3007 1001

sales@linespay.com