Payroll software integration with Accounting
If you go 10 years back or more, the payroll process was done by hand in most organizations. Salary payment of an employee as well as payroll taxes are the two most important task for any employer. Therefore, to follow up the line of order of a business, tracking is important as to what and how much has been paid for business expenses. This creates the need of collaboration between payroll and accounting features for which Integration of accounting solutions with payroll has been a common phenomenon in any organisation.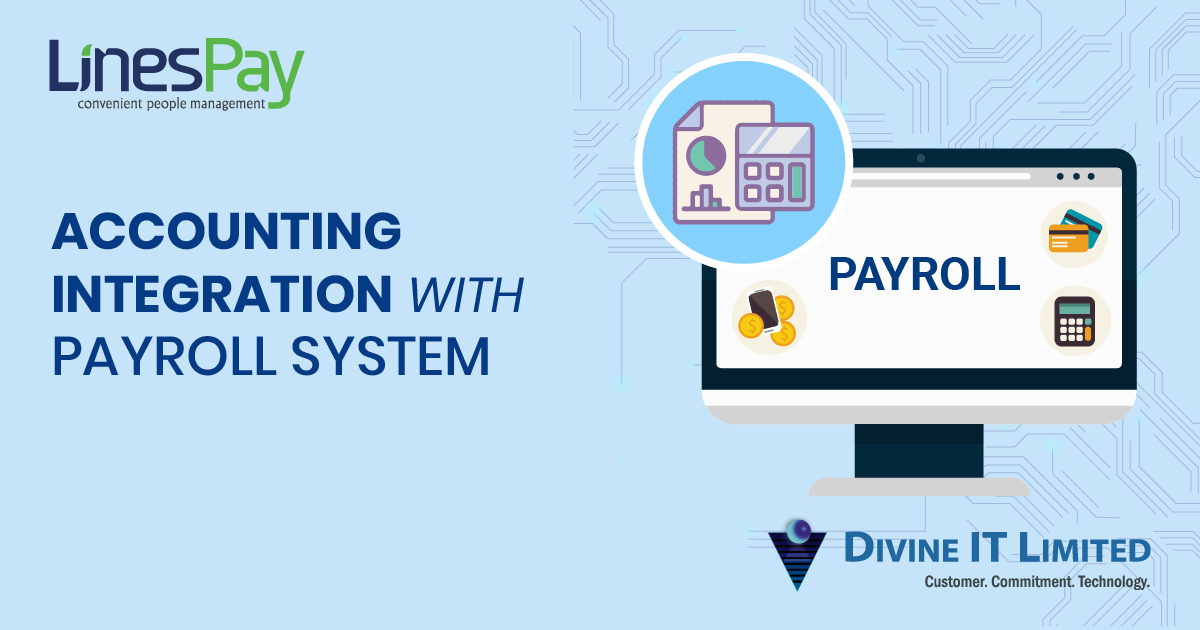 Accounting with Payroll software has been a necessity for almost every type of business especially small, medium or larger enterprises. Before that, people used Excel to manage business entities and data. But now integrating payroll system with accounting together in the software or application makes the business operations simpler by minimizing the errors, reducing human efforts, making business management control easier & simpler. Integration allows to exchange information between two or more solution depending on the number of solutions or software that has been integrated. The important thing right here is making sure that the facts you're providing the specific and right data that you need on hand over to the system. Make it certain that the user is very much comfy with access ability of data entry with proper equation & sharing of information storage to the software.
The payroll system displays the worker facts and totals of wages paid and taxes that you've taken out and paired. Additionally, you may be able to print reviews and salary statement at the end of the year. but in order to include this information in financial statements, the accounting solution comes into play for which payroll system needs to be ideally integrated. Lack of integration can express a bigger hole in financial statements and as an end result, your tax returns. Without automatic updates, paychecks will need to be entered manually into the accounting system, that can result in mistakes and duplication of efforts. You may additionally need to make journal entries to restoration errors.
A key characteristic to look for in any payroll system is the capacity to export all payroll transactions into the accounting system. this could help to make certain that your books and your payroll ledgers match up. this can be a crucial part of having accurate tax paperwork, both for payroll and business taxes.
It is also essential to calculate worker fees as a percent of sales, which is easy to be counted if structures are integrated. Many industries aim for an appropriate ratio of labors to sales, and if you're spending too much on employees, your profitability is impacted. this is especially essential in case you pay for additional time or overtime because the ones wages can be paid at time and a half of. Such fees can creep up without realizing their impact on the bottom line.
Some accounting software eventually comes out with payroll system so they're fully included from the outset. But, many organizations use simpler and less-priced ready payroll systems. Few benefits of accounting include maintaining you up to date with tax tables, no required improvements, and accessibility from in reality everywhere.
ADVANTAGES OF INTEGRATING ACCOUNTING:
i) Eliminates the prospect of interchanging or exchange errors:
Prevent copying the figures out of your on-line payroll calculator or 3rd party, web-based payroll services. There is an excessive amount of room for errors here.
ii) Efficient data reporting & budgeting
As those payroll amounts may be combined into the budgets, it'll display better overtime or over budget figures giving managers the facts correctly to make a quick suitable choice.
iii) No need of Hiring Dedicated professionals:
With the manual effort reduced, the data managing and control conditions get easier. There is no necessity for hiring professionals for operating People management application. As the latest applications of payroll systems are going cross device compatible, it is also allowing the access of laptop or android application while travelling anywhere. It also gives you an added reason for taking control of your line of work on your own instead of hiring someone else for the task. It is not only reducing additional staff hiring but also saves operational & business cost, other resources like machines & infrastructure.
Payroll system and Accounting solution aren't reciprocally exclusive and, once integrated, become indispensable tools for each discipline. If the human resources and accounting managers area unit inclined, they will without delay see and use their several outcomes for budgeting, planning, and decision-making. Accounting professionals mine historic knowledge for its trending values; Human Resources finds history as dynamic as human behavior. the flexibility to integrate the perceptions reduces structure silos and presents valuable period of time info to all or any stakeholders. For example, financial accounting managers need other managers to assess worker performance a minimum of annually as a result of it's a management best observe. Payroll software of Human Resource Management need those assessments thanks to their estimating values. Now there is also moments once financial accounting realizes, the finance numbers don't promise enough future for those human performance predictive analytics to take place. But, ejection such a specific bankrupting crisis, they ought to appreciate that coaching, development, and succession-planning contribute to the return-on-investment. Today's payroll management software info systems programs assure Finance executives that management is really investing human capital to its most.
Overall summary states that while integrating accounting with payroll system, the goal of the accounting system is to cut off all the excessive amount of work which are done manually. Like for example removing the complicacy of data entries, track receipts which allows to spend lesser time and also keeping the line of track. While the goal of the payroll system with account will be to track or focus on the management related or day to day business operations instead of making track of all the employee's or worker's salary with deposits. That will be automatize once it is integrated with accounting increasing the efficiency of business.
Contact Us

+88017 3007 1001

sales@linespay.com