What is a HR & Payroll software?
A Human Resource software, is a software designed to centralize and automate various human resources tasks. A human resource software gets rid of all manually operated functions to calculatable, time saving, accurate information.This kind of software yields efficiency and productivity in a human resource department. It enhances the overall employee development by automating workforce, payroll, compliance and recruitment management.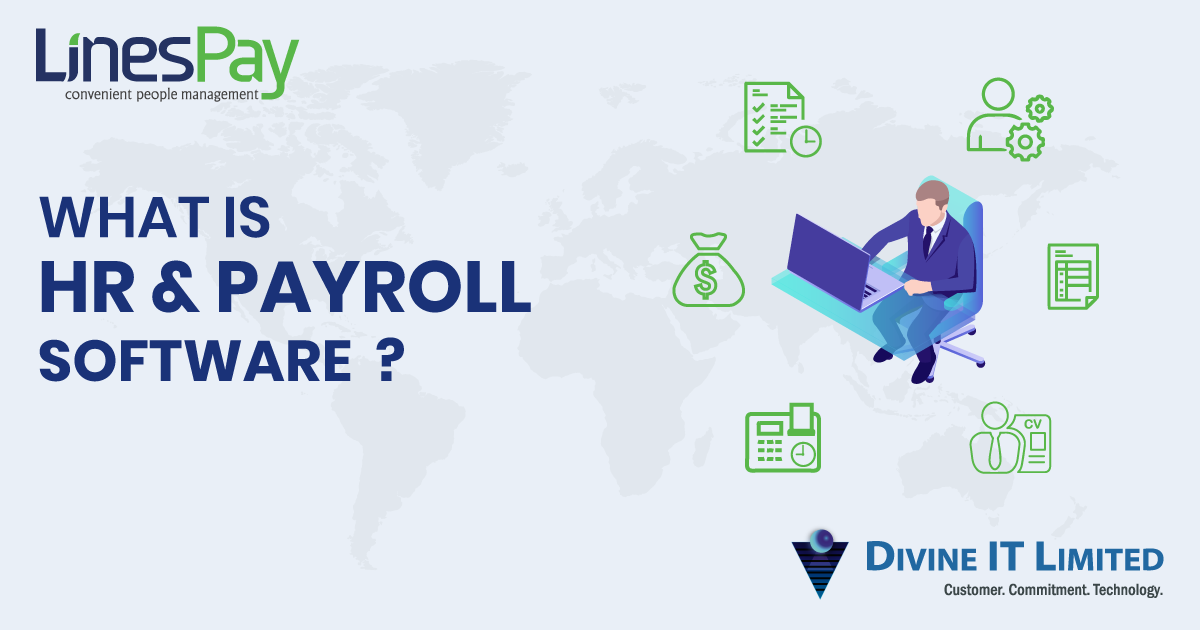 In any organization, Human Resource department is one of the most valuable and integral departments. Almost every organization with a substantial amount of employee, does have a HR department and has the potential to induce development in the overall business through this department. To ensure 100% profitability through the increase in the level of output of employees a Human resource & payroll software becomes a crucial catalyst in a corporate set up.
A human resource & payroll software, automates the basic administrative tasks of an organization. The first and foremost task of this kind of software is to convert manual tasks and filings into electronic filing system. This transition helps to lessen information errors, losses and leaks.
Furthermore, a payroll software automates the process of paying employee salaries based on their daily, hourly or monthly basis payroll system. Not only salaries, a payroll system manages the filing of employee taxes, keeps track of working hours of an employee, calculates wages, delivering checks, employee tax payment to the government, completing direct deposit, insurance payment and many more.
A payroll software usually requires next to nothing in the case of regular inputs. The employer often requires to input employee payment information along with the hours and the necessary details of the employee and let the software do the calculation or deductions on each payment processing time. Almost all payroll software gets automatically updated when a tax law changes and notifies employers on various tax forms. Often based on the critical functionalities of a payroll system of an organization, various managements opts for a stand-alone system to erase any possibility of an error.
For a huge workforce, maintaining a manual HR & payroll system is quite impossible to manage. As often organizations design different kinds of employee salary packages for different departments. A payroll system enables managers to customize paychecks for an individual group of employees.
A standard payroll software includes automatic calculation of taxes, insurance, deductions, loans, retirement contributions and so on.
Payroll administrators can maintain personalized portal for each employee; regularly updating their management of wages, loans, taxes etc. Many payroll systems include self-service options for the employees to view and download payroll checks and edit or submit necessary information based on access control functionality.
Some payroll software systems are configurable by the HR administrators, allowing them to alter accumulations, balance periods and place employees in different pay groups depending on the management decision. On the other hand, basic payroll management systems include gross-to-net income, payroll balance and calculation reports.
Payroll systems delivers payroll data analytics that can produce audit reports and track local or international payroll spending trends.
Payroll software makes it easy for the HR team to customize systems using local currency and process taxes according to the compliances and obligations.
Accurate calculation of employee benefits and salaries would be impossible without a payroll management system.
Most HR software offers recruiting functionalities. These functions make the hiring process of a company less tedious. By centralizing these procedures, a company can post job openings on various social media platforms and job sites and integrate the whole process with the corporate procedures. These eliminates the referral or biased system of recruiting employees and keeps the hiring policies in check.
Even after the hiring, the procedure of transferring new employee information under the assigned department, training facilities, agreements and policies are all placed under the employee's name seamlessly with few clicks.
Streamlining workflow management of large workforces becomes easy with a HR & Payroll software. A large workforce maintains varieties of work schedules often including overtime and overtime payment. The workflow of employees never gets unseen by the management, if a HR software is at work in an organization. A manager can always track the assigned task progress, monitor and evaluate work and reward the best performer of the team. Employees get full credit for their overtime work and evaluations can be done by managers based on workflow analytics hence making the system of the organization streamlined with improved decision-making quality.
A company is only successful if it is constantly improving its system and employee performance through strategic planning. A HR and payroll software offer tracking of employee progress throughout the year so that the company realizes the need of certain types of training to boost employee performances on a certain field of work. The employee performance improvement yields overall organization development.
All of the above advantages can be enjoyed with a solid HR and payroll system packed with customized functionalities and an user-friendly interface.
For that, HRM software is the best possible solution to solve out the complexities that most organization faces and will cope-up with your business to achieve the highest level of efficiency and workforce management.
Such an overall functionality-rich software is LinesPay. LinesPay serves and delivers integrated, flexible and affordable Human Resources and Payroll management system ideal for managing an organization's -"Human Capital". It is equipped with every aspect of HR management tool as well as robust reporting capabilities. The software can be customized depending on the client's needs.
LinesPay has been providing HR & payroll solutions in Bangladesh market for 10 years. This software has the overall HR & payroll protocol laid by the national authority which are widely followed by the organizations in Bangladesh. Implementing HR & payroll solutions in several industries, LinesPay has made its name as an only solution with a full stack of HR & payroll functionality in the market.
The system helps organizations to manage the entire employee lifecycle all the way from planning, recruiting to paying their benefits and compensations. The system is based on a modular approach and thus can be used by smaller organizations as well as larger enterprises.
Contact Us

+88017 3007 1001

sales@linespay.com